HC Plastics News:
Benteler-Sigri has developed a lightweight, space-saving composite leaf spring for Volvo's multi-model SPA global platform, enabling fully automated HP-RTM production.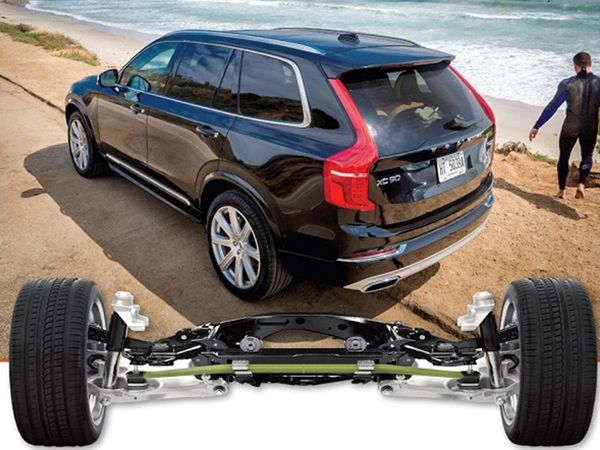 Volvo's new XC90 crossover SUV
As a joint venture between the first-class automotive supplier Bentler Automotive Industry GmbH (Paderborn, Germany) and the fiber solution provider SGL Group (Wiesbaden, Germany), Bentler was founded in 2008. - Sigri (Riedim Innkreis, Austria) produces a wide range of fiber-reinforced automotive composite components, including flank and columns, doors, spoilers and seats, but by far the most notable achievement is the mass production of composites. Professional experience in material leaf springs. Since the acquisition of the automotive business unit of Fischer Composites Technology (Riedim Innkreis, Austria) and the construction of a second composite parts factory near Ortim Innkreis in Austria in 2012, the company has achieved unprecedented production of automotive composites in an innovative way. ability.
In 2013, Benteler-Sigley replaced the typical epoxy resin matrix material at the time and presented a fiberglass to the Mercedes-Benz Sprinter van of Daimler AG (Stuttgart, Germany). /Polyurized front axle springs, which have a weight reduction from 15kg to 6kg and a weight reduction of 65% compared to steel components.
Using Henkel (Düsseldorf, Germany) fast curing LOCTITEMAX2 polyurethane resin (PU) and high pressure resin transfer molding (HP-RTM) process, Bentler-SGL has achieved 100,000 to 150,000 per year Production of parts.
With the increase in the production of fiberglass/PU rear axle springs for the new XC90 crossover SUV in Volvo (Gothenberg, Sweden), the company is preparing to raise this threshold again. The XC90 is the first model to be produced on Volvo's new global platform for the Scalable Platform Architecture ('SPA'). As an integral part, the leaf spring will also be used on S60, S90, V60, V90 and XC60, as well as any larger car that may be developed.
"This is the highest-volume composite component project in the automotive industry and will reach 500,000 parts per year by 2018." Dr. Robert Ernst-Siebert, Managing Director of Benteler-Sigley, said, "In addition to cooperation from us. In addition to the comprehensive expertise of our partners, Benteler and SGL, we have established strong partnerships with our customers and resin suppliers to integrate our existing HP-RTM and preforming processes into a fully automated production line. Importantly, we have developed a process that is not currently available on the market."
Benteler-Sigley and Volvo's collaboration in SPA plate spring design comes from extensive experience. "We have the ability to produce Sprinter van leaf springs and also have the capacity to build other suspension system components through the Bentler Automotive Group, all of which can be integrated into Volvo's leaf spring projects." Ernst- Siebert explained.
The design of each leaf spring is determined by its function and requirements. According to Frank Fetscher, director of FRP chassis application business development at Bentler Automotive Group, this design determines the performance and cost of the leaf spring. The leaf springs designed for Volvo use up to 60 layers of fiberglass unidirectional fabrics to meet performance, durability and cost requirements, as well as very compact installation space limitations. Although the leaf spring of this composite material is substantially the same size as the previous metal leaf spring, the coil spring and the suspension strut are eliminated, so that the shaft extends less to the trunk area, thereby increasing the inventory space.
"Based on material properties, there are some limitations on design," he explains, that is, from the luxury version of the XC90 to the compact X60, a leaf spring design must meet the performance and inventory requirements of all models. That is, the length and width are both 1200 mm and 60 mm. However, the weight of SUVs may vary greatly compared to small cars. Therefore, three curvature shapes are designed to provide a suitable leaf spring for each vehicle weight. For the main indicators such as lift and stiffness of different models, on the one hand, the upper and inner bushings can be moved outwards, and on the other hand, by using different pads at the end of the spring to adjust, in order to meet the needs of each model. It provides additional capacity to adjust spring performance while ensuring that the production process is as simple as possible. Therefore, Benteler-Sigley is able to manage a large number of complex applications. "Volvo and we have developed this capability to adapt the spring's stiffness factor to different models," Fetscher said.
The design and final production process were validated in accordance with Volvo's requirements. "We support their ideas on how to verify," Fetscher said, in addition to computer-aided engineering (CAE) and physical testing. "We also included their requirements in our CAE fatigue program and mechanical fatigue testing." He pointed out that this includes dynamic fatigue load testing from road load data, as well as static load testing, all of which are in different environmental conditions. Completed under. Fetscher added that all of the chassis components of Benteler Automotive Industry and Benteler-Sigley, such as anti-roll bars or lower control arms, were tested similarly and used. Life expectancy is well predicted.
At the plant in Ortim Innkreis, Austria, Volvo's leaf springs are produced using LOCTITEMAX2 polyurethane resin using the HP-RTM process. However, higher annual production targets need to reach new levels of automation. "From raw materials to the factory, all processing steps are automated and there is no manual intervention." Ernst-Siebert repeatedly emphasized that "this internally developed production line is the key to our successful production of high quality final parts." Therefore, it is perfectly Understanding Benteler-Sigley is not going to reveal many details.
The first part of the line includes automatic cutting and preforming of unidirectional reinforcements, which is also an aspect of the production control system. "We have complete control over this line, including automatic inspection," explains Ernst-Siebert. "There are different quality assurance steps throughout the production line, not only for visual inspection but also for automated mechanical testing. Every leaf spring will get Testing." Fetscher added that this test checks the stiffness of the spring and the 100% component function, which is standard practice for this type of application.
Ernst-Siebert insists that the key to achieving stable, powerful machining and obtaining reproducible components is what he calls online control of all material parameters. For example, Fetscher said: "A pre-form that is not suitable for the layup, the system will detect this mismatch between the test parameters and the programming parameters, so that we can immediately know the problem. Then, we remove the unqualified parts and Amendments to ensure that this part of the production line has been revised." He said that in the future, Benteler-Sigley will move towards a self-controlled production line. "This is the first step we have taken in this direction to get an integrated Industry 4.0 production system."
Pre-forming is the next step on this automated production line. First, an industrially advanced epoxy or polyurethane-based powder binder is used to stabilize the unidirectional fabric laminate, and the binder is melted by heat and pressure, and the preform is consolidated after cooling. The robot then transports multiple preforms on one leaf spring into the multi-cavity lower die of the HP-RTM press. "As part of our proprietary in-house development, we have developed special fixtures for all such transfers," Fetscher said.
"Thank you for the help of SGL, we have done a lot of research and development to define the best material concepts for this special leaf spring application, including fabrics and adhesives," Ernst-Siebert points out. "It's not like It seems so simple, only a few fabrics are perfectly suitable. For example, SGL has developed materials for these leaf springs, and its special design not only satisfies the functional requirements of the components, but also provides stable preforms. ""
After the preform is placed, the mold is closed and the resin casting begins. However, in order to achieve a high level of automation in the HP-RTM process, in-depth development is required. "The key is to optimize the process." Ernst-Siebert asserts, "You have to have an in-depth understanding of the resin. By working with Henkel, we have done this. At the same time, we must have an in-depth understanding of the fabric, through with SGL. Cooperation, we have done this too. So we know how to adjust the parameters to meet the cycle time requirements and achieve production."
"The two major challenges are mechanical properties and processes," said Frank Kerstan, global project manager for Henkel's Adhesive Technologies business unit. "This spring must be very tough and durable, and can withstand hundreds of conditions under different conditions. Thousands of dynamic loads. However, high volume production requires very fast casting and curing." He found that polyurethane is ideal for this application. "Polyurethanes offer high strength like epoxy, while also having high elongation and toughness, both of which are important for this application," explains Kerstan.
"There are many resin suppliers that offer epoxy resins, vinyl ester resins and polyurethanes. However, for our special projects, Henkel is able to meet the cycle time and cost structure requirements with high industrial productivity," Fetscher said.
Kerstan explained that because the glass fiber content in the final product is 55%, relatively high, the crucible is poured very quickly, but it does not cause fiber misalignment, and it is guaranteed that one part to the next is reliable. The LOCTITEMAX2 resin has a viscosity of 200 to 300 mPa or cps at room temperature, but drops to 10 cps at 90 ° C, allowing the fibers to be impregnated reliably and quickly without shifting the fibers.
Benteler-Sigley has used a variety of equipment at its Ortim Innkreis plant, including a Hennessy Streamline unit with a custom mixing head and a KraussMaffei mixing metering unit. The HP-RTM press from A. Dieffenbacher and a metering device designed specifically for the HP-RTM process by Cannon Afros are equipped with two dedicated FPL14 mixing heads.
In order to produce Volvo leaf springs, the main components of the PU resin are degassed to avoid the formation of air bubbles in the components, which are circulated in the heating jacket and passed through the heating pipe before being metered into the two mixing/injection mixing heads. Keep the temperature. The pressure in the mixing head is 120-140 bar, and each mixing head can inject 11 kg of resin in 22 s.
Typical metering, mixing, and pouring equipment that feeds data into the control system through a mass flow meter to continuously monitor the flow of each component. If a deviation from the specified value is detected, the system immediately manages the parameters of the associated metering pump to restore the required flow in real time. In an area designed to be 90 m2, various resin storage, conditioning and pumping devices are installed.
Just as heating the resin is necessary to optimize the impregnation of the flow and the preform, the heated mold is also very important for the curing of the composite, where a multi-cavity mold configuration is used. Ernst-Siebert said that although the previous report proposed 8 to 10 or even 12 cavities, the number of cavities actually used depends on the yield of the project. "This can be changed according to customer needs and component design." He added, "To meet the cycle time required by our customers, we used a multi-cavity mold that was finished in 10 minutes." Although this time It does not include the placement of the preform or the removal of the part, but both operations are automated and designed to meet the production requirements of the part.
In order to adapt to the three different spring curvature designs, three different upper molds were developed. Three lower dies were separately developed for each upper mold so that the thickness of the spring can be changed. In this way, nine different lower molds can eventually be used in production in accordance with the mixed model order. In addition, there are additional options. Kerstan explained that with LOCTITEMAX urethane resin, catalysts can be added depending on the size of the part to further reduce cure time. He also pointed out that external or internal release agents can be used. "Whether using an external release agent or an internal release agent depends on the part program and the cycle time and dwell time during processing." However, he warns that since the leaf spring is a dynamically loaded part, the internal release is The agent may affect the performance of the part. "Auxiliary products that match the chemical composition of the resin, such as binders, catalysts and internal mold release agents, are very important." Kerstan also pointed out that mold shape is a key factor in determining the best release method: "If there are grooves and From the perspective of difficult release, an external release agent may be required."
Two new presses were used in the fully automated production line of Volvo leaf springs. "To achieve maximum production, we have established a second automated production line," Ernst-Siebert said. Due to the high degree of automation, only a small number of technicians are required to operate these lines. "We currently implement two shifts and, if needed, three shifts," Ernst-Siebert said. "We have the flexibility to meet the needs of our customers, and if needed, we can run 24 hours a day, 7 days a week. These production lines."
These production presses are comparable to a 1600t shuttle twin-station press in the Ryder-Sigley R&D center in Riedim Innkreis. Ernst-Siebert emphasized the importance of the relationship between the technology center and the Ortim Innkreis production plant: "We have an automated pilot line in the technology center that is suitable for small batch production but can simulate the entire process. Just like we are at Just like setting up this production line in the prototype phase, we tried to be very close to 'how can we make parts in actual production'." He added that his team also got a simulation of Benter's concept of machines and experts from SGL. Analysis and simulation of materials. "Because of this, we have further improved our process technology through the development of HP-RTM, so we are making rapid progress."
"We also apply this to metering devices and casting of resins," Fetscher said. "In order to be able to identify problems and improve in the early stages of process development, early involvement of resin suppliers such as Henkel played an important role. "
Ernst-Siebert said: "This is important because the process is too complicated. It is impossible to adjust one parameter to make every necessary improvement. You must adjust multiple parameters at once."
When the parts are fully cured, the robot transfers them from the HP-RTM press to the automated milling unit where it is trimmed and drilled at the end of each leaf spring. Fetscher believes that such automation is an industry standard, but points out that Benteler-Sigley's fixtures are unique and that there is no manual intervention in the trimming process.
With the Volvo rear plate spring project progressing as planned to reach its highest output in 2018, Bentler-Sigley has turned its attention further. "We have discovered other opportunities for backplane springs and are working hard to develop more applications with OEMs," Fetscher said. "Motivation and market drivers remain the same, and future alternative vehicle structures may bring this application More potential."
Kerstan agrees: "Other car manufacturers have indicated that they intend to adopt this same lightweight composite sheet spring concept, and I am also convinced that this compact plate spring shaft is very suitable for the body/chassis of electric vehicles. concept."
In addition, Bentler-SGL has also applied its transverse plate spring design and production experience to the production of longitudinal glass fiber reinforced springs.
"To maintain the same or slightly improved functionality, the use of composite materials instead of steel to make leaf springs offers tremendous opportunities for weight reduction at a reasonable cost," explains Ernst-Siebert.
Henkel is targeting many other automotive applications, including structural body parts and externally sprayable parts, such as the roof RTM process for roof construction. The company has also developed a suitable high temperature (Tg > 200 ° C) epoxy system for the mass production of carbon fiber reinforced wheels.

Editor in charge: Yao Chunlin
These bushes, bushing are used to diminish vibration, impact or shock as well as to reduce noise level during application use.
Our bushes, bushing can be manufactured in a variety of shapes, sizes, color, hardness and elastomers depending on your application. Please contact us today to discuss your application.
These products that better made of advance Polyurethane(PU) materials, which provides high functionality, durability, and safety that cannot be achieved with conventional rubbers and plastics or lightweight metals.
Bushing, a lining for a hole, intended to insulate and protect from abrasion one or more conductors that pass through it.

Bushing, a replaceable thin tube or sleeve, usually of rubber, plastic, polyurethane mounted in a case or housing as a bearing.

Bushing, a replaceable hardened steel tube used as a guide for various tools or parts.


Specialized in the production of Urethane Bushing, Suspension Bushes, Polyurethane Bushes, Rubber Bushings, Plastic Bushing,Polyurethane Bushing, Poly Urethane Bushes, Pour Bushing, Poly Bushes, Elastomer Elastic Bushing, Buffer Cushion Urethane, Nylon Bushing , Derlin Bushing, UHWPE Bushing, Insulation Bushing, Acetal Bushing, Fiber Bushing, Suspension Bushing, Shoulder Bushings, Control Bushings, Elastomer Bushing, Rubber Arm Bushing, Delrin POM Flanged Sliding Bushing......

Bushes Bushing,Urethane Bushes,Nylon Bushing,Flange Bushing
Zhejiang Dream Industry Limited , https://www.mlwdream.com