Wedge:
Two Parts or Three Parts
Wedges Hardness:
HRC58-65
Anchorage Ranges:
1 Strands to 55 Strands
Transport Package:
Ply Wooden Case or Carton, or Container
Specification:
SGS, ISO9001-2008, BV
12.7mm and 15.24mm PC Strand Cable Prestressed Anchor for Post Tesnioning Concrete Slab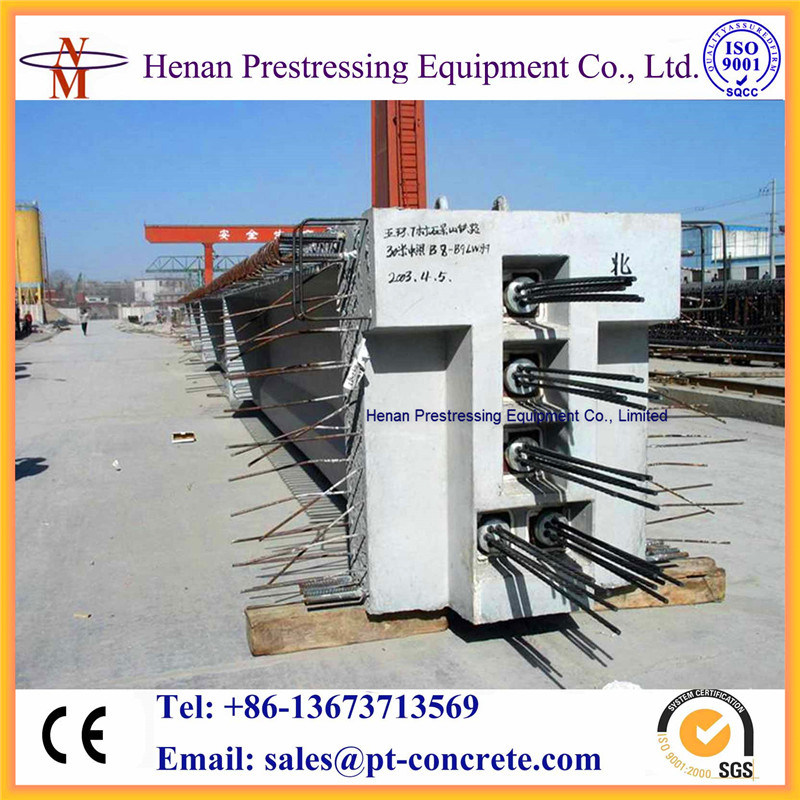 1. INTRODUCTION:
Multistrands anchor system are composed of anchor block(anchor head), wedges, anchor bearing plate, spiral reinforcing rings. It can used to lock the steel strand wires on/under classes of 2000Mpa standard strength,which is usually in diameters of 12.7mm /12.9mm/15.2mm/15.7mm.

It has been verified by pratice that various type of YJM anchor also can be used for the different  kinds of strand wires produced according to ASTM/BS/JIS/JIG/AS and  other international standards respectively only if  its technical parameters shall mary the related  detail materials.
2. BRIEF DESCRIPTIONS:
1). Type: Single-hole, Multi-hole; Circular, Flat.

2). Parts: Anchor Ring/Plate, Wedge, Base Plate etc.

3). Have a high anchor efficiency and very good performance.

4).  We can manufacture all kinds of anchorage and prestressed equipment according to your requirement and drawings.
3. APPLICATIONS:
1). For Buildings: Housing, Commercial Buldings, High Rise Buildings.

2). For Municipal Engineering: Railway, Highway, Over Head Fast Speed Way, Metro Way, High-speed Railway, etc.

3). For Projects: Mining, Piling, Foundation, Slope and Rock Reinforcement, Hydropower Station, Anchoring Engineers, Water Conservancy Project, Oil or Gas Tank, etc.
4. FEATURES:
YJM anchorage system is consists of
Stresed End Anchor System
(Including Stressed End Anchor Head/ Blocks, Anchor Wedges, Anchor Bearing Plate, Spiral Steel Reinforcing Rings) and
Dead End(Fixing End) Anchor System
(including Dead end anchor, Anchor Wedges, Steel Plate, Spiral Steel Reinforcing Rings). It is widely used in
Prestressing
and
Post Tensioning construction
.
YJM series of anchor system is work with 5mm to 10mm pc steel wire and 12.7mm, 15.24mm pc strand cable. The detail specifications see as followings:Â 

1). YJM5Â applies to 5mm, 5.2mm smooth surfase and spiral ribbed pc steel wire.

2). YJM6 applies to 6mm smooth surfase and spiral ribbed pc steel wire.

3). YJM7 applies to 7mm smooth surfase and spiral ribbed pc steel wire.

4). YJM8 applies to 6mm smooth surfase and spiral ribbed pc steel wire.

5). YJM9 applies to 9mm smooth surfase and spiral ribbed pc steel wire.

6). YJM10 applies to 10mm smooth surfase and spiral ribbed pc steel wire, and 9.3mm, 9.53mm pc strand.

7). YJM11 applies to 10.8mm and 11mm pc strand.  
8). YJM13 applies to 12.7mm, 12.5mm & 12.9mm pc strand.
9). YJM15 applies to 15.2/15.24mm, 15.7mm pc strand.
10). YJM18 applies to 17.8mm pc strand.

11). YJM22 applies to 21.6/21.8mm pc strand.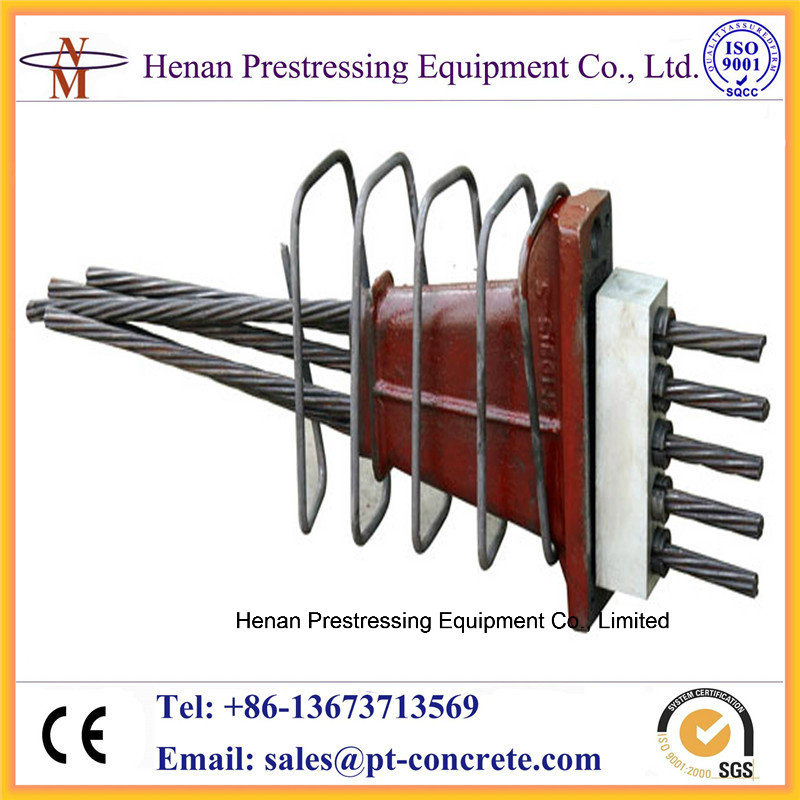 5. OUR ADVANTAGES
Henan Prestressing Equipment Co.,Limited manufacture full complete post tension components, materials and post tension equipment for buildings and bridge construction. Kindly please call us: Mobile Phone. +8613673713569.

Our Product Ranges:

1. Anchor System: unbonded monostrand anchor system, multistrands anchor system, flat anchor system, arch type flat anchor, anchor barrel and wedges, ground anchor, rock and soil anchor, anchor wedges, anchor bearing plate, spiral reinforcing rings.

2. PC Strand System: unbonded pc strand, bonded pc strand, 12.7mm prestressed cable, 15.24mm prestressed strand, epoxy coated pc strand,galvanized pc strand, 6mm, 7mm, 9mm pc steel wire.

3. Duct System: galvanized metal duct, HDPE plastic duct, curved type galvanized metal duct, flat duct, corrugated pipe. 

4. Heavy equipment: bridge girder launching machine, drilling rig, bridge girder transporter
6. Samples Exhibiton for Different Kinds of Anchorage System(Experienced OEM and ODM Services)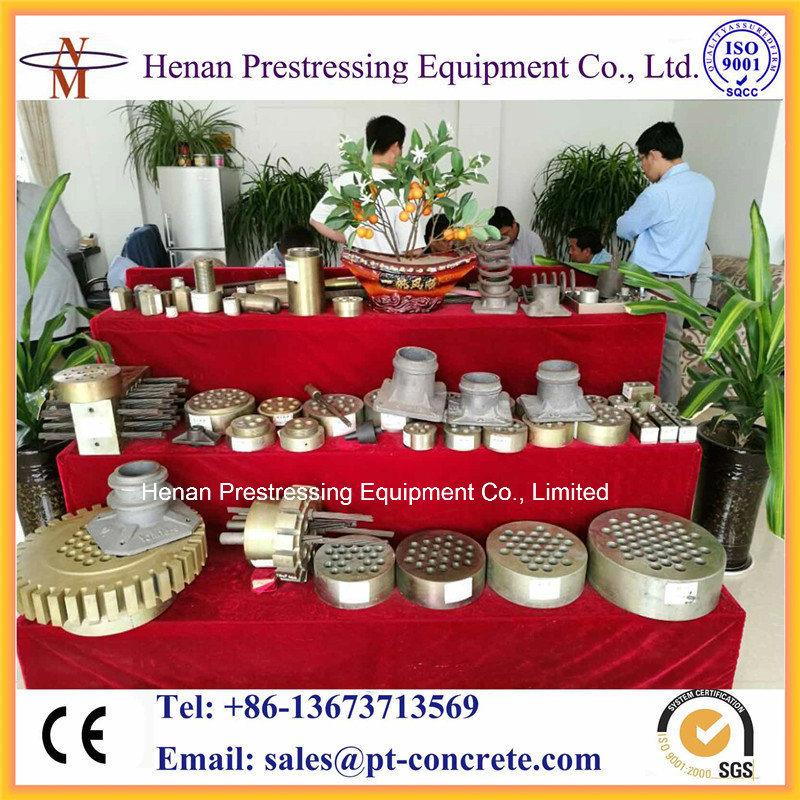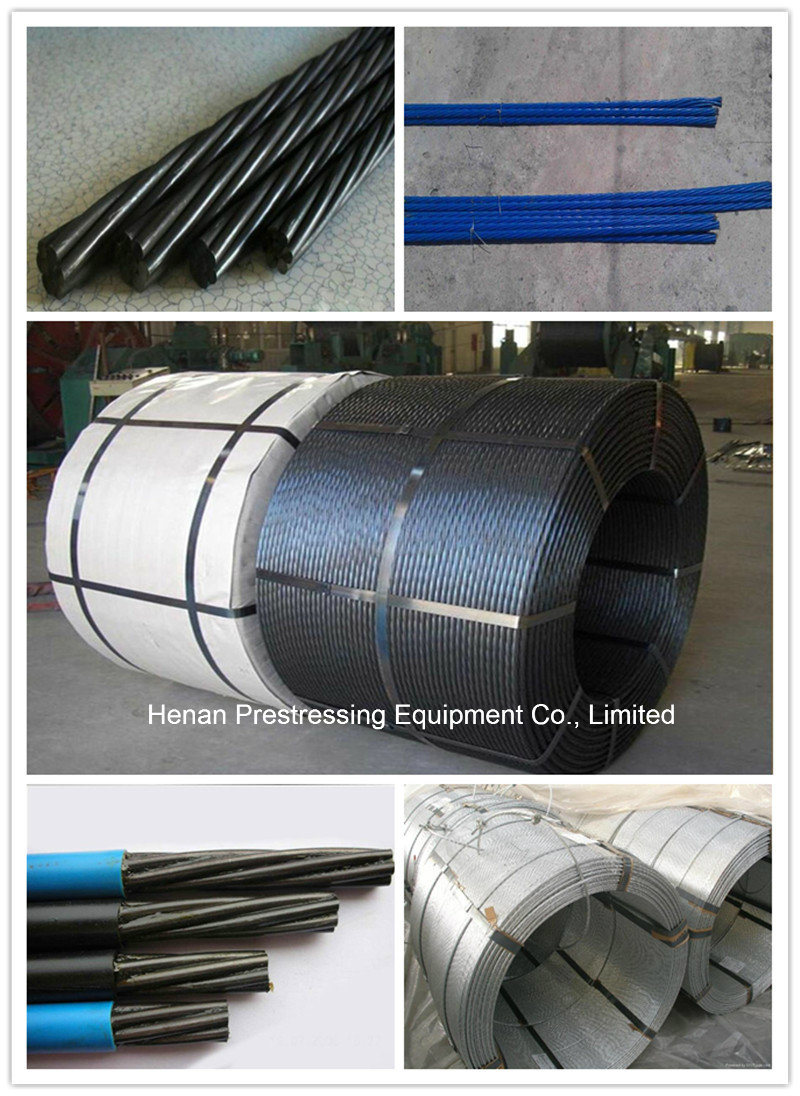 7. FAQ
1): Q: Do you supply OEM Service or Customized-made Anchorage System?

A Yes, we do. Actually, we have cooperated with many famous PT Supplier in whole world.Just send us your drawings when need to be customized.

2) Q: Do you provide free samples?

A: Yes, sure, we provide free samles for your testing.

3) Q: How is the delivery lead time:

A: Goods in stock: within 3 days, Goods out of stock(7 days), Goods need to be customized(10-15 days).

4) What is your Minimum Order?

A: MOQ: 100 pieces.

5) Q: Payment Terms?

A TT, LC, Western Union, Paypal, etc.

6) Q: How to transport the goods:

A: by shipping, airflight, express.
8. TECHNICAL DATA FOR YJM13(12.7MM) MULTISTRANDS ANCHOR SYSTEM
 
Anchor Model

The Number of PC Strand

Anchor Head/Plate

Corrugated Pipe I.D.

Anchor Barrel

Spiral Reinforcement

Tension Jack Model

 
 

A x B x ΦD

 ΦD

ΦE x F

ΦG x ΦH x L

Cycles

 

YJM15-1

1

80x80xΦ12

Φ50

Φ45x45

70x Φ6x30

4

QYC270

YJM15-2

2

135x70xΦ58

Φ50

Φ78x45

100x Φ8x40

4

YDC 1000

YJM15-3

3

135x70xΦ58

Φ50

Φ88x48

100x Φ8x40

4

YDC 1000

YJM15-4

4

136x80xΦ62

Φ55

Φ98x48

130x Φ10x40

4

YDC 1000

YJM15-5

5

146x80xΦ62

Φ55

Φ103x48

140x Φ10x50

4

YDC 1100

YJM15-6

6

162x100xΦ78

Φ70

Φ117x48

160x Φ12x50

4

YDC 1500

YJM15-7

7

162x100xΦ78

Φ70

Φ117x50

160x Φ12x50

4

YDC 1500

YJM15-8

8

176x120xΦ88

Φ80

Φ127x50

170x Φ14x50

5

YDC 2000

YJM15-9

9

183x120xΦ90

Φ80

Φ137x50

180x Φ14x50

5

YDC 2000

YJM15-10

10

210x120xΦ100

Φ90

Φ147x50

210x Φ14x60

5

YDC 2500

YJM15-11

11

210x140xΦ100

Φ90

Φ157x50

210x Φ14x60

5

YDC 2500

YJM15-12

12

210x140xΦ100

Φ90

Φ157x50

210x Φ14x60

5

YDC 2500

YJM15-13

13

210x140xΦ100

Φ90

Φ157x55

210x Φ14x60

5

YDC 3000

YJM15-14

14

234x160xΦ100

Φ90

Φ167x60

230x Φ16x60

5

YDC 3000

YJM15-15

15

234x160xΦ100

Φ90

Φ167x60

230x Φ16x60

5

YDC 3500

YJM15-16

16

244x180xΦ100

Φ90

Φ177x60

230x Φ16x60

5

YDC 3500

YJM15-17

17

250x180xΦ100

Φ90

Φ187x65

230x Φ16x60

5

YDC 3500

YJM15-18

18

265x200xΦ110

Φ100

Φ187x65

250x Φ16x60

5

YDC 4000

YJM15-19

19

265x200xΦ110

Φ100

Φ187x65

250x Φ16x60

6

YDC 4000

YJM15-20/21/22

20/21/22

310x240xΦ130

Φ120

Φ215x70

300x Φ18x60

6

YDC 4600

YJM15-23

23

310x240xΦ140

Φ130

Φ217x70

300x Φ22x60

6

YDC 5000

YJM15-25/26/27

25/26/27

350x290xΦ140

Φ130

Φ260x90

310x Φ22x60

7

YDC 6500

YJM15-30/31

30/31

370x290xΦ150

Φ140

Φ290x105

400x Φ22x60

8

YDC 6500

YJM15-34/37

34/37

465x340xΦ170

Φ160

Φ320x112

450x Φ22x60

8

YDC 8000

YJM15-43/44

43/44

500x450xΦ170

Φ160

Φ345x130

470x Φ22x60

8

YDC 10000

YJM15-54/55

54/55

500x510xΦ170

Φ160

Φ380x160

520x Φ24x61

8

YDC 12000
9. TECHNICAL DATA FOR YJM13(12.7MM) MULTISTRANDS ANCHOR SYSTEM
 
Anchor Model

The Number of PC Strand

Anchor Head

Anchor Plate

Corrugated Pipe I.D.

Spiral Reinforcement/Bar

Matched Tension Jack Model

ΦD

B

A

L

 ΦC

 ΦG

 ΦH

d

n

 

YJM13-QYM1

1

40

45

90

60

Φ35

60

30

6

3

QYC270

YJM13-QYM2

2

78

46

120

80

Φ40

110

30

6

3

YDC 650

YJM13-QYM3

3

78

46

120

80

Φ45

120

30

8

3

YDC 650

YJM13-QYM4

4

85

46

130

85

Φ50

130

40

10

4

YDC 1000

YJM13-QYM5

5

92

46

140

97

Φ50

140

50

12

4

YDC 1500

YJM13-QYM6/7

6/7

103

48

160

120

Φ60

160

50

12

4

YDC 1500

YJM13-QYM8

8

116

48

170

120

Φ60

170

50

12

4

YDC 2000

YJM13-QYM9

9

126

50

180

150

Φ70

180

50

12

4

YDC 2000

YJM13-QYM10

10

136

50

192

160

Φ80

180

50

14

4

YDC 2500

YJM13-QYM11/12

11/12

136

50

192

160

Φ80

190

50

14

Reactive Dyes For Dyeing,Popular Reactive Dyestuff,Reactive Dyes For Cotton,Reactive Red 195

ZHEJIANG E-DYE SUPPLY CHAIN MANAGEMENT CO.,LTD. , https://www.easytodyes.com